Yorkville Workers' Compensation Lawyers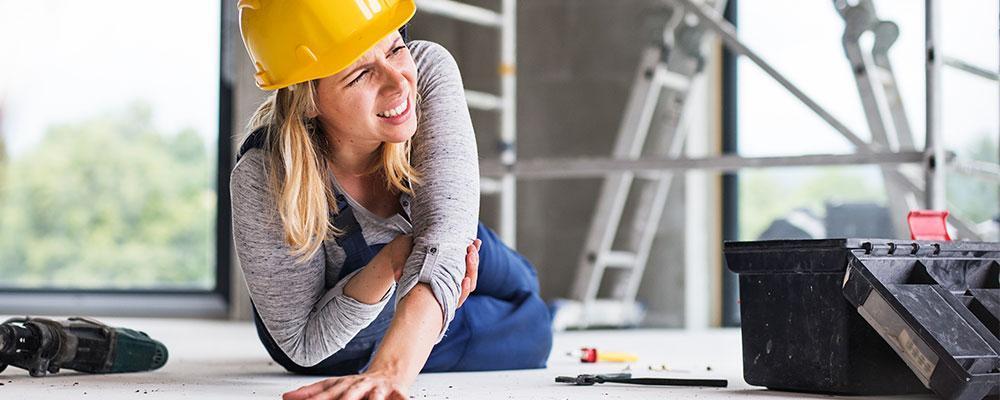 Kendall County Attorneys for Workers' Comp Claims
Even the most experienced and careful employees sometimes suffer workplace injuries. Whether is it a new work-related injury or an aggravation of a previous injury, our workers' compensation attorneys can help get you back on the road to recovery.
According to The Travelers Company Injury Impact Report, workplace injuries are most often caused by:
Handling materials (32 percent)
Slips, falls, and trips (16 percent)
Impact or collision with an object (10 percent)
Tool and machinery accidents (7 percent)
Overuse, repetitive motion (4 percent)
Whatever your workplace injury, workers' compensation can protect your physical and financial well-being. Workers' comp is a no-fault benefit system in which employers compensate workers afflicted with an injury sustained or illness contracted on the job. It is meant to pay for medical bills, rehabilitation, short-term disability during recovery or long-term benefits for debilitating injuries that leave the individual unable to work.
While some workers' comp claims are paid without conflict, others involve prolonged disputes with the injured party, employer, and workers' compensation insurance company. To achieve the best possible and quickest result, enlist the help of a skilled workers' compensation lawyer. At McAdams & Sartori, LLC, we can file your initial claim, and if disputes arise, we are prepared to fight for your rights and seek the compensation you are entitled to by law.
Illinois Workers' Compensation
The Illinois Workers' Compensation Act sets the guidelines for workers' comp claims statewide. Employers must purchase workers' comp insurance to cover employees injured on the job. Corporate officers, sole proprietors, business partners, and limited liability companies may be exempt. An estimated 91 percent of all Illinois workers are covered.
An employee has 45 days to inform an employer of a significant injury. Once an employee misses more than three days of work due to the injury, the employer must file a report with the Illinois Workers' Compensation Commission (IWCC) and contact their workers' comp insurance carrier. At this point, an employer is expected to either begin workers' compensation payments to the employee, request additional information relevant to the claim, or inform the employee that their claim has been denied and why. While employees are not required to file a claim of their own, for full legal protection, it is advised that they do so with the help of an attorney.
If your workers' comp claim is unjustly rejected, the attorneys at McAdams & Sartori, LLC can initiate a plan of action designed to prove the validity of your injury and its impact on your life. In the end, it is not up to an employer or an insurance company to make the final determination. The law is on your side.
Workers' Comp Insurance Disputes
After an initial claim is denied, your workers' comp lawyer can file a new claim with the IWCC, which resolves workers' compensation disagreements. Your attorney can present evidence to the arbitrator, whose eventual ruling could be reviewed by a commissioners panel. If that decision proves unfavorable, cases can be appealed with the Illinois Circuit Court, Appellate Court, and Supreme Court. Most of these disputes are eventually resolved with a settlement.
McAdams & Sartori, LLC understands the dire need many workers' comp claimants face when a claim is denied. We will exhaust every available legal procedure to secure the compensation you are rightfully owed.
Contact an Oswego Workers' Compensation Attorney
Anyone injured while performing the normal duties of their job is entitled to receive compensation for lost wages and medical costs. To begin your workers' comp claim, or if your employer says your claim is not valid, trust McAdams & Sartori, LLC to handle your case. Call a Kane County workers' comp lawyer at 630-553-1313 for a consultation today. We also serve clients in St. Charles, Aurora, Montgomery, Sugar Grove, Big Rock, Plano, and Hinckley.